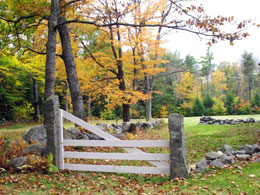 Once you discover the advantages Southern New Hampshire has to offer you'll want to call this corner of New England home. If you're being relocated to the Boston area you owe it to yourself to comparison shop the cities and towns of northern Massachusetts with those in southern New Hampshire. You'll find that this area offers more house for the money while having excellent access to the greater Boston area on interstate 93.
Why should you choose Southern New Hampshire? Simply stated it's the quality of life that sets us apart. Southern New Hampshire offers something for everyone. Our rural open spaces and picturesque New England scenery is home to some of the most affluent and highly educated people in the greater Boston area. Once you've settled in you'll know that this was the place you were searching for all along. A place to enjoy life, raise a family, or simply to discover what is truly important to you. This is a place that is gracious yet relaxed, a place to escape from the pressures of your working routine and to enjoy that special place called home.

The popularity of southern New Hampshire has brought a variety of newcomers over the past 25 years. Your neighbors are as likely to be a native of Massachusetts, Georgia or California as to be a native of the Granite State. Traditon is tempered by New England common sense and diversity is valued and encouraged. Those of us who call southern New Hampshire home, share a common fondness for the both the natural beauty and rugged independence. New Hampshire has one of the lowest tax burdens in the US. New Hampshire remains one of the wealthiest states in the nation, with the sixth-highest median income and the lowest percentage of residents living in poverty, according to data released by the U.S. Census Bureau. According to the New Hampshires official web-site in 2007, this is the Most Livable State in the U.S. for the last three consecutive years, the second healthiest state in the U.S., and the fourth safest state in the nation. All in all you'll find that southern New Hampshire offers exceptional quality of life:
Central Location: Close to Everything

Low crime

High quality health care

Excellent schools

Affordable housing

Open space

Cultural opportunities

Affluent Rockingham County

Charming small cities and towns.
Southern New Hampshire is known for its excellent schools, low tax burden, low crime rates, affordability and quality of life. What is less well known is that this region is the most affluent in greater Boston. According to the Census Bureau, the Granite State's, Rockingham County, boasts the highest median family income of any county in either Massachusetts or New Hampshire. At $56,667, Rockingham County's median income is $1,000 more than Norfolk County, Massachusetts and $3,000 more than Middlesex County Massachusetts.
Southern New Hampshire is blessed with one of the best geographic locations in the greater Boston area. Interstate 93, Route 3 and Interstate 95 provide easy access to the business, recreation, and educational centers of the region. Many great destinations are less than two hours away.

Downtown Boston can be reached in under an hour from most of the communities in southern New Hampshire. Boston is less than 35 miles south of my office in Windham, on a quick, straight shot down interste 93. It is very easy to enjoy the cultural, entertainment, sports and dining of Boston.
The White Mountains are an hour and a half to two hours away. You will want to enjoy the natural beauty of autumn in this spectacular setting. The splendor of the lakes region is even closer to home. When the snow starts to fall it will be time to head north to one of the many top ski resorts. The seacoast with it its beaches and scenic rock coast is less than an hour away.
The employment centers in and around Nashua, Manchester, I-495 and Route 128 (I-95) are all easily reached from southern New Hampshire. The Boston-Manchester Airport, in Manchester, New Hampshire offers a full range of flights with major carriers or alternatively, Bostons Logan Airport is in easy reach. Boston-Manchester has an abundance of low cost parking and the availability of low cost carriers such as Southwest Airlines.
Manchester, New Hampshire has become a regional destination for southern New Hampshire residents rivaling Boston for sports and entertainment. The Verizon Center is a major venue attracting large concerts and other events as well as being the facility where many local indoor sports teams play. This facility had helped to revive the downtown area. There are many wonderful restaurants to enjoy before an event or night on the town.
One of the major reasons for the popularity of southern New Hampshire is affordability. This is especially true with housing costs. In most cases, homes are much less expensive here than they are in northern Massachusetts. Often times you'll be able to afford a newer home on a much larger lot with more square footage for a much lower price than found south of the border. And your monthly housing expense will be much lower even after you factor in southern New Hampshire's somewhat higher property taxes. There are many housing options, from new homes antique colonials. Beautiful subdivisions are set amid the scenic countryside and shopping, schools and recreational activities are nearby. There are also many new 55+ active adult communities in the region. What better place than affordable New Hampshire to spend your golden years.

Kristie Dinsmore has a thorough understanding of all the advantages that can only be found in southern New Hampshire. Her ties to the local area mean that she knows the people, the places and the neighborhoods. She has helped hundreds of people relocate to this special corner of New England. She is a great resource and has the local information you need to make an informed buying decision. Why trust your relocation to a real estate agent that doesnt know the area when Kristie is just a phone call or e-mail away.
Please feel free to the use the following links to explore more of what southern New Hampshire has to offer.